In this cross-sectional project, research activities on different rodent associated zoonotic pathogens were bundled. All rodents collected within the scope of various monitoring and catching measures were collected centrally at the Friedrich-Loeffler-Institute and the sample materials (blood, faeces, organs, etc.) were made available for studies on rodent associated zoonotic pathogens for a growing circle of project partners throughout Germany.
These include pathogens with unclear transmission pathways such as coxials, bacterial diarrhoea pathogens such as enterohaemorrhagic Escherichia coli and salmonella. Also orthopox viruses, vector-transmitted pathogens such as FSMEV, Rickettsia, Borrelia, Babesia, Francisella and Anaplasma and aerogenically transmitted pathogens excreted by rodents via urine such as Hantaviren, Arenaviren and Leptospiren were represented.
Various campaigns in the field of public relations (press releases, information on the health authorities of the ÖGD and federal institutes that can be understood by laypersons, as well as specialist articles) inform about the results of this cross-sectional project.
Due to the numerous coordination partners, the project was able to make a relevant contribution to interdisciplinary networking within the zoonosis research community in Germany.
Coordinator: PD Dr. Rainer Ulrich (Friedrich-Loeffler-Institut (FLI), Greifswald - Insel Riems)
Co-applicant: PD Dr. Heinrich Neubauer (Friedrich-Loeffler-Institute, Jena)
Cooperation partner:
Prof. Dr. L. H. Wieler (Free University of Berlin, Department of Veterinary Medicine, Coordinator of the BMBF FBI-Zoo)
Dr. K. Henning (FLI, Wusterhausen, project partner in the BMBF network Q-Fever)
Prof. Dr. Ch. Drosten (University of Bonn, Coordinator of the BMBF SARS-CoV network)
Prof. Dr. F. T. Hufert (University Medicine Göttingen, Coordinator of the BMBF Arbovirus Infections Network)
PD Dr. S. Eßbauer (Institute for Microbiology of the German Armed Forces, Munich, project partner in the VICCI research network (Vector-borne Infectious Diseases in Climate Change Investigations))
Prof. Dr. F.-R. Matuschka (Charité Berlin)
Prof. Dr. S. Günther, Dr. J. Schmidt-Chanasit and Dr. S. Poppert (Bernhard-Nocht-Institute, Hamburg)
Dr. A. Nitsche (Robert Koch Institute, Berlin, reference laboratory for orthopox viruses)
Dr. K. Nöckler (Federal Institute for Risk Assessment, Berlin, reference laboratory for leptospires)
Funding period until: 01.10.2010 until 31.05.2013
---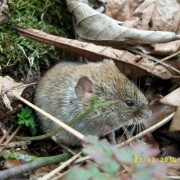 Photo: Ulrike Rosenfeld