One Health Certificate
Due to the localization of zoonoses research at the interface of different scientific fields, this research field puts special demands on young scientists. The One Health Certificate of the National Research Platform for Zoonoses is intended to support the interdisciplinary education of PhD students in zoonoses research and to promote the widest possible qualification for further work in this field. Furthermore, the One Health Certificate supports the further expansion of the zoonoses research community.
Requirements
Obtaining the One Health Certificate is obligatory for all doctoral students supported by interdisciplinary doctoral projects of the Zoonoses Platform. In addition, however, all other members of the Zoonoses Platform can also acquire the One Health Certificate within the framework of a doctoral thesis if the thesis deals with an interdisciplinary research topic in the field of zoonoses. The exact requirements for obtaining the certificate can be found in the guidelines on obtaining the OHC. In addition to confirmed participation in selected events, membership in the Zoonoses Platform, a successful doctorate (magna or better) and active participation in the community, the consent of the supervisor (Willensbekundung) of the doctoral thesis is mandatory.
Application process
The necessary documents for obtaining the certificate can be submitted in advance of the doctoral defence or together with the doctoral certificate. It is sufficient to send copies of the original documents by regular mail to the Greifswald office or by email to zoonosenplattform@fli.de. Should there be any questions regarding the recognition of certain event participations or other questions in connection with the One Health Certificate, please feel free to contact the Greifswald office at any time.
contact person:
Dr. Dana Thal, Friedrich-Loeffler-Institute, Phone: 038345 17 1198, Email: dana.thal@fli.de
You can find an interview with the first holder of the certificate here.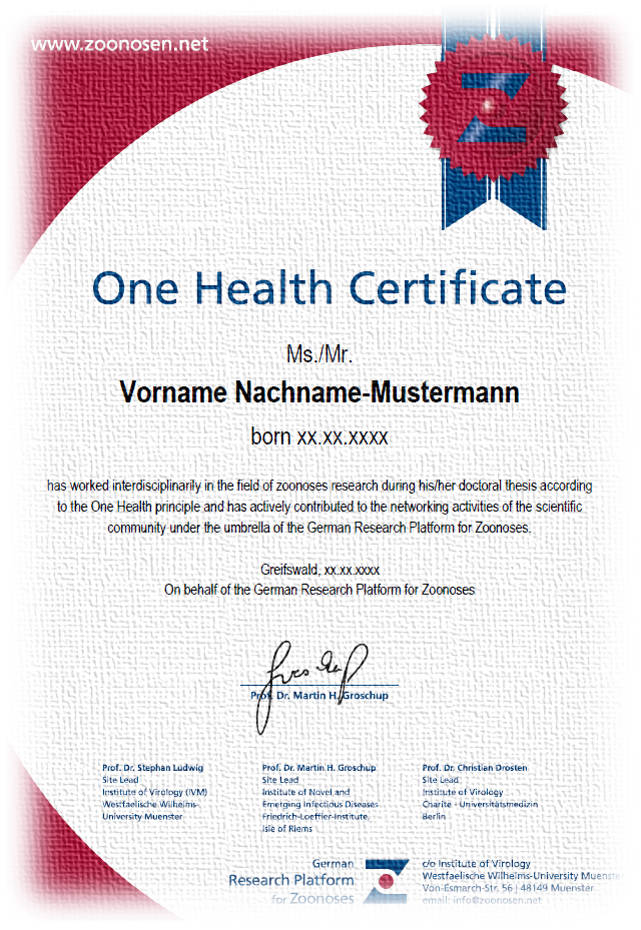 Exemption due to the existing COVID-19 restrictions
Since many events are currently cancelled or postponed due to travel and assembly restrictions under COVID-19 containment, the following exceptions apply initially:
Attendances that take place after the doctoral period can still be credited to the OHZ for a limited time. The certificate will then not be issued with the doctorate, but only when all certificates of participation are handed in.
Alternative event formats (e.g. online conferences) can be credited to the OHZ for the duration of the restrictions instead of attendance events. Please contact the office to clarify whether an event can be recognized by the Zoonoses Platform.