Poster Award
As part of the zoonoses platform's promotion of young scientists, the three best posters submitted by young scientists will be selected at the annual International Symposium on Zoonoses Research.
All topics will be considered. All participants of the respective symposium are entitled to vote.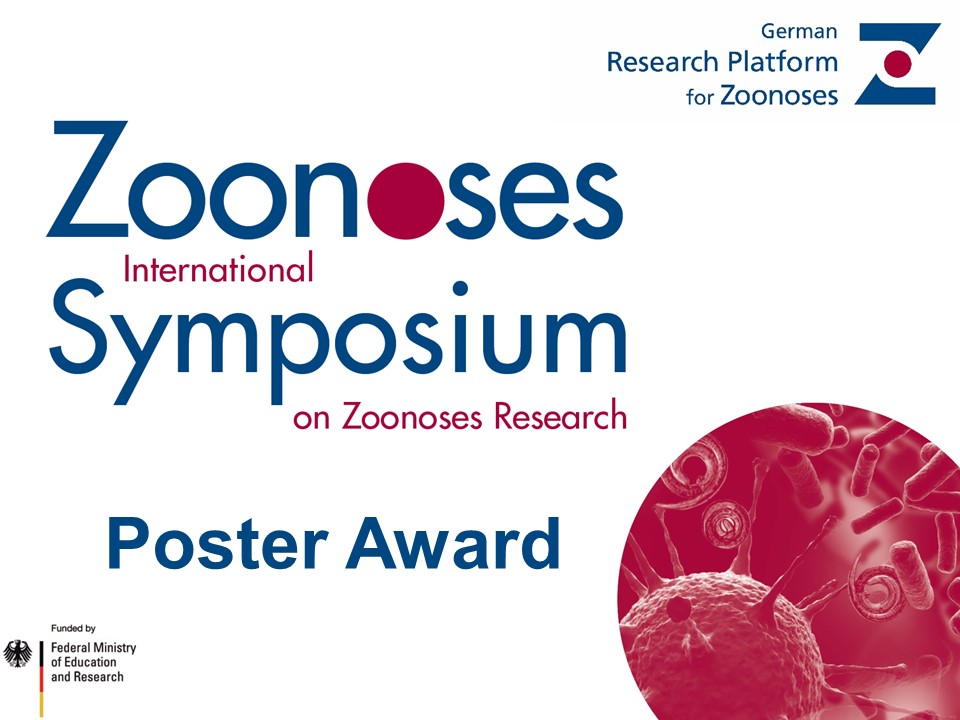 Poster Award 2021
Also in 2021 the coronavirus pandemic prevented a symposium in Berlin. However, with the accumulated experience of the past months, a virtual poster exhibition and slam were easily realized during the symposium "Zoonoses 2021" from October 13 - 15, 2021. This year, the number of contributions worthy of awards was again far higher than the first three places to be awarded. Due to the high quality of the posters, it was not surprising that there were two third places this year. We would like to congratulate the winners.
An interview with the first and second place winners can be found here.
Winner of the Poster Awards 2021
1. Place: Anna-Delia Herbstmann (BfR) Viability qPCR and CFU data acquisition for modelling survival of Campylobacter jejuni in raw milk
2. Place: António Camarão (TiHo Hannover) Recognition of secreted flavivirus NS1 protein by C-type lectin receptors
3. Place: Paulin Dettmann (Robert-Koch-Institute) Multiplex Assay for Detection, Differentiation and Quantification of Staphylococcal Enterotoxins
3. Place: Etienne Aubry (Freie Universität Berlin) Identification of novel virulence factors in the pathogenesis of Streptococcus canis infections in dogs via population genetics and Transposon Directed Insertion-site Sequencing

Poster Award 2020
The Poster Award 2020 was again awarded by all participants of the symposium. A special feature this year: since the symposium was held online due to the coronavirus pandemic, voting was also conducted online for the first time. Participants were able to view the posters to be evaluated in a virtual poster exhibition. In addition, the young scientists presented their work for the first time in a poster slam. Here, everyone had 1 minute to convince the audience of their own work. The results were inspiring and would certainly have justified prizes for numerous contributions. But only the first three places could be awarded. We congratulate the winners very sincerely.
Winners of the Poster Awards 2020
1. Place: Nina Militzer (FU Berlin) Life in the lab: artificial feeding of all successive life stages of the hard tick Ixodes ricinus
2. Place: Paula Jendrny (TiHo Hannover) SARS-CoV-2 detection dogs – a pilot study
3. Place: Aileen Faist (Institut für Virologie, Universität Münster) Exploring the immunomodulatory properties of pre-evaluated p38 inhibitors as a treatment for severe COVID-19

Poster Award 2019
At the International Symposium on Zoonoses Research 2019, the poster prize was awarded for the first time by all participants. Out of the 103 poster contributions submitted by young scientists from more than 10 different subject areas, the three most chosen were awarded prizes.
Winners of the Poster Award 2019
1. place: Julia Schneider (Laboratory Berlin, Charité Berlin) Full genome sequencing of West Nile Virus, Europe
2. place: Tobias Gräßle (Robert Koch-Institute) Carcass monitoring as a disease surveillance tool in the Dzanga Sangha Protected Areas (DSPA) of the Central African Republic
3. place: Alexander Falkenhagen (German Federal Institute for Risk Assessment) Generation of Simian Rotavirus Reassortants with Diverse VP4 and VP7 Genes Using Reverse Genetics
Professor Stephan Ludwig and Professor Martin Groschup handed over the Poster Award 2019 to the winners (from left to right: Stephan Ludwig, Tobias Gräßle, Julia Schneider, Alexander Falkenhagen, Martin Groschup)
We congratulate the winners very warmly!