One of the central tasks of the National Research Platform for Zoonoses is to promote cooperation, transparency and intensive networking between scientists working in the field of zoonoses research. To this end, a large, cross-topic International Symposium on Zoonoses Research as well as topic-specific workshops are organised annually.
At the International Symposia on Zoonoses Research, which are held annually in Berlin in autumn, all scientists have the opportunity to present and discuss their research results in lectures or on posters, regardless of the zoonotic pathogen they are working on. Great importance is attached to achieving a balanced relationship between veterinary and human medicine as well as infection biology, and to examining topics such as immunity, diagnostics, epidemiology or pathogenesis across pathogens.
At the symposia, the central steering committee of the Zoonoses Platform, the Internal Advisory Board, is elected by all members present and entitled to vote.

The National Research Platform for Zoonoses promotes scientific events that serve to initiate new cooperations and projects in the field of zoonoses research and thus provide added value for the community. Funding is provided for events in Germany that show a high degree of networking between human and veterinary medicine and various institutions.
Details on funding for scientific events can be found in the information sheet "Funding of scientific events".
In addition, strategic events can also be applied for at the Zoonoses Platform. The leaflet on strategic events can be found here.
The Internal Advisory Board of the National Research Platform for Zoonoses decides on funding. Applications on which the Internal Advisory Council will vote at the next possible meeting can be submitted to info@zoonosen.net.
On the following pages, you will find information on current events as well as follow-up reports on events already held by the Zoonoses Platform.
Interdisciplinary exchange
in zoonoses research
As an overview of the pilot and cross-sectional projects that were funded under the umbrella of the Zoonoses Platform, a detailed brochure on all projects and events of the Zoonoses Platform was published in December 2013.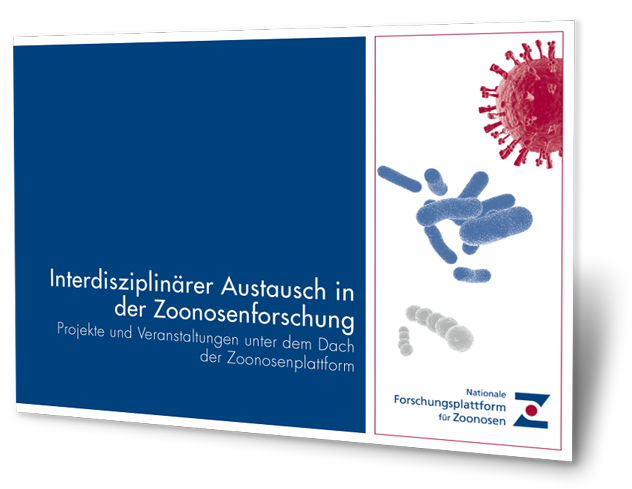 Detailed information
If you are interested in one or more copies of the brochure you can
please contact the office.