From October 12-14, 2015, the National Research Platform for Zoonoses held its sixth workshop for young scientists in Berlin. With this successful format for the promotion of young scientists, the Zoonoses Platform supports its young scientists in the development of interdisciplinary competences, which are essential for a further career in zoonoses research.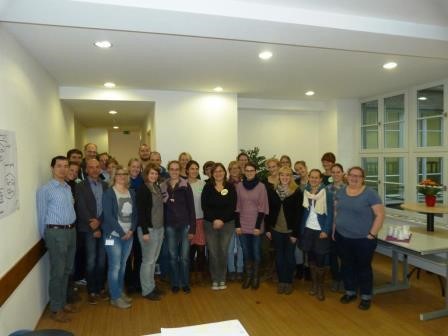 Participants in the 2015 young talent workshop in Berlin
As in the previous year, "Scientific Writing" and an "Introduction to the Basics of Project Management and Conflict Resolution" were offered in parallel sessions. A total of 25 young scientists from various German universities, university hospitals and federal research institutions took part.
Writing is part of the everyday life of every scientist. The session "Scientific Writing" therefore dealt with the creation, structure and structure of a scientific text and the use of adequate wording. In addition, the participants dealt with optimisation strategies with regard to correct literature research. The texts used in the exercises were deliberately kept up to date and close to the topics covered by the participants.
The second session "Introduction to the basics of project management and conflict resolution" included practical exercises, techniques and procedures to realize the most effective work in a scientific context.
For the first time this year, the venue was the "one by one", which is located in the immediate vicinity of the historical Checkpoint Charlie and offered the participants from Weiter travelled to Berlin to learn about Berlin history. At the end of each day of the event, all participants and the workshop speakers had the opportunity to exchange ideas and experiences over dinner.
Directly after the workshop, another organizational meeting of the young scientists of the Zoonoses Platform took place in the afternoon of October 14, 2015, on the premises of the Robert Koch Institute Berlin. At this meeting, important organizational and content-related questions regarding upcoming events for young scientists, such as the Junior Scientist Zoonoses Meeting (JSZM) 2016, were discussed and debated.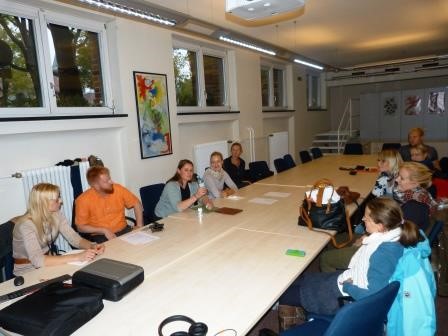 Organizational meeting of young scientists in Berlin 2015
---