"Dual Use Research of Concern" (DURC) refers to research projects whose results are actually intended to benefit society but could potentially be misused for bioterrorist purposes. A debate on such research projects has been occupying the scientific community since 2012. A workshop of the National Research Platform for Zoonoses on 15 September 2015 in Berlin provided information on the current state of this debate and the possibilities of regulating potentially dangerous research. From the discussions of the participants it became clear: "Additional regulation makes sense, but not legal regulation".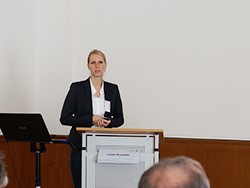 Dr Linda Brunotte (University of Münster),
Organizer of the work
shops, welcomed the part--
and moderated the
discussions.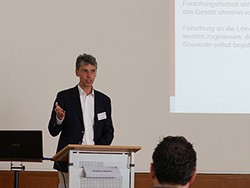 Prof. Dr. Stephan Becker
(Universität Marburg)
During the workshop "Dual Use of Concern - How well prepared are we for the consequences of the current debate?", participants from science, the German funding landscape and ethics committees warned against the possibility of introducing a "research law" or "research subject to approval". Rather, it is the task of scientists to find binding regulations for research in order to prevent the misuse of research results. Funding agencies also expect national regulations, since they cannot take responsibility for the research results that are produced with their funding. The workshop participants favoured entrusting existing structures with the task of risk assessment of the few critical research projects without having to draft or reformulate laws for this purpose.
Research institutions must also assume their responsibility
Prof. Dr. Stephan Becker from the University of Marburg pleaded for not only researchers but also research institutions to assume their responsibility. Together they should weigh up the risks and benefits of potentially dangerous research projects from all scientific fields. He presented an initiative of the German Research Foundation (DFG) and the Leopoldina Academy of Sciences and Humanities to install "Commissions for the Ethics of Security-related Research" (KEF) at universities throughout Germany and to expand existing commissions to include the aspect of security-related research.
At the same time, aspects such as the risk potential of research and the personal responsibility of researchers should be included in the curricula of German universities. Becker described examples from the University of Marburg's internal commission "for research and responsibility", according to which the topic of dual use is by no means only one of virology, but of many research fields. From this he concluded that he rejected a single solution only for the regulation of virological research.
Dr. Stephan Roesler from the Federal Ministry of Education and Research (BMBF) emphasised that the measures taken by the scientific community for the self-regulation of risk research would certainly also be noticed by politicians. He thus made it clear that science has a great deal of scope for shaping this debate and the establishment of new regulations and that legal regulation is not necessarily the last resort.
The logic of pathogens requires international regulation
Vom Versuch, eine internationale Harmonisierung herbeizuführen, berichtete Prof. Dr. Thomas C. Mettenleiter. "Bisher wird noch sehr national argumentiert", stellte der Präsident des Friedrich-Loeffler-Instituts fest, "die Logik potentiell pandemischer Pathogene erfordert jedoch eine internationale Regelung, schließlich breiten sich die Erreger auch potentiell über Staatsgrenzen hinweg aus." Weltweit herrschen in den Ländern, in denen Forschung auf diesen Gebieten betrieben wird, sehr unterschiedliche Standards und Regelungen.
Mettenleiter skizzierte die Möglichkeit, z. B. mit Hilfe des EASAC (European Academies Science Advisory Council) eine Harmonisierung aus der Wissenschaft heraus auf europäischer Ebene herbeizuführen. Allerdings schlägt er eine Regelung für das klar umgrenzte Gebiet der Forschung mit hochpathogenen Viren vor. Eine Ausweitung auf andere Wissenschaftsbereiche würde zu Unschärfen und damit im Zweifel zu großen Einschränkungen führen.
So zeichneten sich zum Ende des Workshops zwei Lösungsansätze ab: eine eng umgrenzte, internationale Regelung zu DURC-Forschung sowie die Gründung von Kommissionen an Forschungsinstituten, die thematisch breiter aufgestellt sind und von einer nationalen Anlaufstelle angeleitet werden könnten.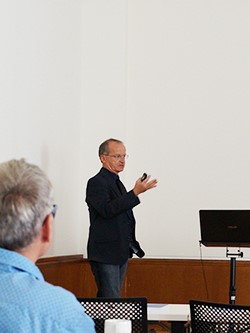 Prof. Dr. Thomas
Mettenleiter
(Friedrich-Loeffler-
Institut)
---
A clear conceptual basis is needed
Dr. Jens Bohne (Medizinische
Hochschule Hannover)

"The aim of the discussion on dual use research must first of all be to create clear demarcations and to differentiate precisely," said speaker Dr. Jens Bohne from the Hanover Medical School. It quickly became clear from the speeches and the requests to speak made by the workshop participants that even after three years of debate on "Dual Use of Concern", clarity still needs to be created: What exactly does "dual use" mean? Where does the "Concern" lie? Etc. According to some participants during the discussion, the community of scientists has to define terms clearly and use them in a differentiated way, otherwise there is a danger that virology will be put under the general suspicion of a "science risk".
The benefits of basic research must be explained in relation to its risks
Building on a conceptual basis, which has yet to be developed, a communication strategy must be designed. "The distorted image of the researcher building monsters in the cellar must not be allowed to manifest itself", warned Prof. Dr. Stephan Ludwig of the University of Münster, organiser of the workshop. He demanded that the benefits of basic research, as opposed to the risks, should be more clearly emphasized in the future.

This also implied involving potential stakeholders in the discussion. "You have to develop a communication strategy and involve the stakeholders", advised Prof. Dr. Joachim Schiemann of the Julius Kühn Institute, who reported on his experiences with protests against green genetic engineering. His experience taught him to conduct stakeholder-oriented workshops. In this way a certain understanding for each other could develop and a common approach could take place. In particular, the results would ultimately also benefit from this. Who exactly are the stakeholders of dual use research will have to be analysed more closely in the future.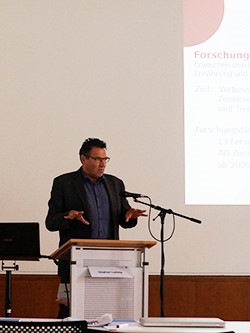 Prof. Dr. Stephan
Ludwig (University of
Münster)

Exchange continues in Commission of GfV and Zoonoses Platform
A forum for developing definitions and deriving further steps in the dual use debate from them would be a commission for the monitoring of research with DURC potential, which is affiliated to the German Society of Virology (GfV) and held a first meeting shortly before its official foundation following the workshop. This commission could serve as a representation of the interests of virologists in the external implementation of ethical guidelines, be a contact for the public and maintain the internal dialogue within infection research. The aim should be to find mechanisms that work for DURC-relevant projects and the work of the commissions entrusted with this task.
Since the DURC debate also affects the microbiological community, networking with the German Society for Hygiene and Microbiology (DGHM) is currently being sought in order to develop a joint strategy for dealing with the consequences of the debate.
The National Research Platform for Zoonoses is available for the involvement of the public and stakeholders in the DURC debate. It encourages scientists to submit applications for funding for further workshops on the DURC debate in order to provide space for discussion.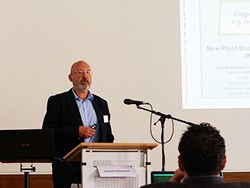 Prof. Dr. Joachim Schiemann
(Julius-Kühn-Institut)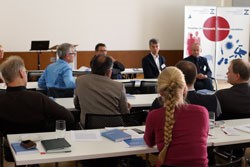 Speakers and participants
discussed animatedly about the
Consequences of dual use
Debate for research.