The INVENT pilot project was devoted to method development with the aim of reducing the use of animal experiments. Using the example of the pathogen Francisella tularensis, which is responsible for tularaemia in humans and rabbits, a liver cell model was developed and tested. The complex liver tissue consisting of human hepatocytes, cholangiocytes, sinusoidal endothelial cells, Ito cells and Kupffer cells was reconstructed. The infection model was functionally tested with Francisella tularensis.
The model can be used to investigate inflammatory reactions, immigration of immune cells and death of parts of the tissue as a result of infection of different Francisella tularensis strains.
In order to make the novel liver cell model known and accessible to as many zoonotic scientists as possible, a laboratory workshop was held on site in Jena as part of the project. In addition, the results were presented at the National Symposium for Zoonoses Research in 2013.
Coordination:
Dr. Alexander S. Mosig (University Hospital Jena, Molecular Hemostaseology, Research Group "Experimental Cell and Tissue Technology")
Project partner:
PD Dr. H. Tomaso (Friedrich-Loeffler-Institute, Jena)
Funding period: 01.06.2012 - 28.02.2014 (after expenditure-neutral extension)
---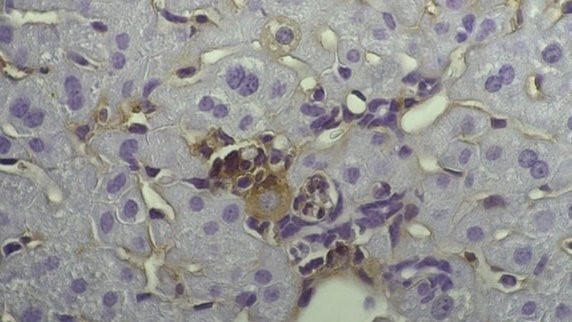 Liver cells under the light microscope
Source: Helmholtz-Zentrum für Infektionsforschung, Braunschweig