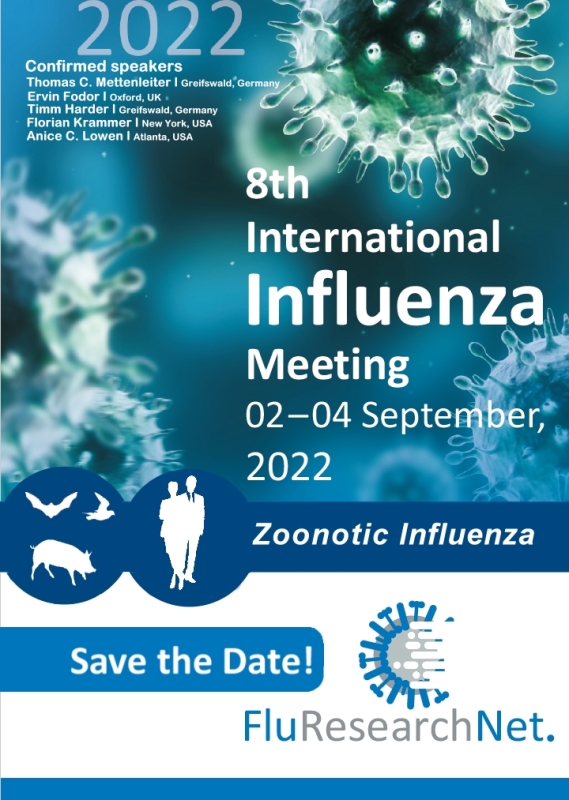 8th International Influenza Meeting

Date:
September, 2nd - 4th 2022

Venue:
University of Münster (Castle)
Schlossplatz 2
48149 Münster
Germany
Keynotes
Thomas C. Mettenleiter l Greifswald – Isle of Riems, Germany

Ervin Fodor l Oxford, United Kingdom

Timm Harder l Greifswald – Isle of Riems, Germany

Florian Krammer l New York, USA

Anice C. Lowen l Atlanta, USA
Topics

This year's highlight topic is "Zoonotic Influenza"

Other Meeting topics will be in the following categories:
* Innate immunity
* Evolution and Emerging Viruses
* Viral Replication
* Vaccines and antivirals
* Pathogenesis
* Virus host cell interaction
Abstract submission
Abstracts are welcome for oral and poster presentations on the topics mentioned above. You can submit your abstract online here.

To submit an abstract you will also need your Registration-ID. So please make sure to register for the Meeting before submitting an abstract.
Please note that we are using Indico/Evis as a tool for the abstract submission.Therefore please make sure to create an Indico profile here before submitting an abstract. Please create your Indico profile here:
https://evis.events/register/

Registration
Please register online here
Conference fee
Regular rate (postdocs and senior scientists):
€ 110
Reduced rate* (undergraduate students, graduate students, PhD students):
€ 70
*Confirmation required onsite
Organizing Committee:

Dr. Yvonne Börgeling l Muenster
Dr. Linda Brunotte l Muenster
Prof Dr. Stephan Ludwig l Muenster
Prof. Dr. Martin Schwemmle l Freiburg

Dr. Friederike Jansen l Muenster
Sebastian Sprengel l Muenster

more Information coming soon